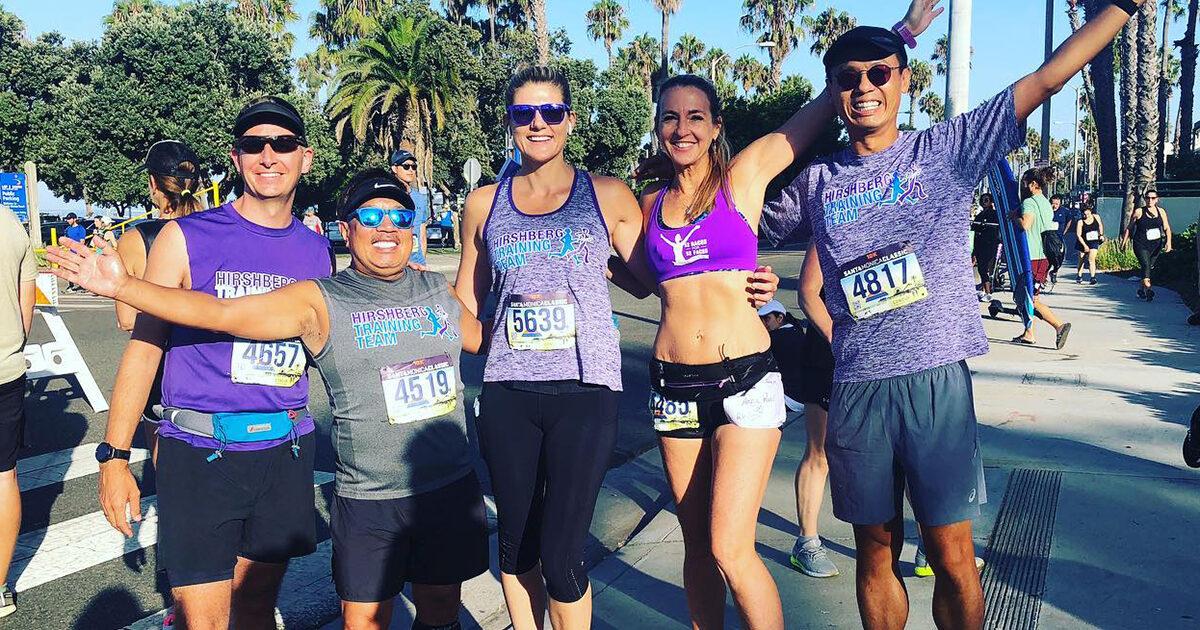 Sarah Ballog-Smith, a loving daughter, mother and wife honors the memory of her dad Al year-round by raising money for research and participating in Hirshberg events. Her dad has been her inspiration to run the LA Marathon with the Hirshberg Training Team (HTT) for five consecutive years 2019-2023, to fundraise on Facebook and form a teams for the LACC and Tour de Pier.Since 2019, she has raised over $25,500.00 as part of HTT and has raised thousands more with the support of family and friends.
Below is the story she shared prior to her second marathon in 2020. Sarah remains an active HTT alumnus to this day.
By: Sarah Ballog-Smith
I am so excited to announce that I will once again be running the Los Angeles Marathon as a member of the Hirshberg Training Team in 2020! As many of you know from my Facebook posts, I LOVE the Hirshberg Foundation for Pancreatic Cancer Research and everything they do in the fight against pancreatic cancer.
I joined the HTT last year, and it has truly changed my life. Prior to joining the team, the most I'd ever run was a 5k (really!). Since October of 2018, I've completed 5 half marathons, 1 full marathon, logged over 700 training miles, and am gearing up to complete another 26.2 miles on March 8, 2020… but I need all the support I can get to help me cross that finish line.
In addition to completing the iconic Stadium to the Sea run, I have given myself another huge challenge… to BEAT my fundraising total from last year… which was EPIC thanks to all my generous friends and family out there. I am determined to raise at least $5,500 this season, but I can't do it without your help.
As many of you know, my amazing father Al was diagnosed with pancreatic cancer back in 2014. He was treated at the Hirshberg Center at UCLA and fought the fight every step of the way. Due to the grim nature of pancreatic cancer, he passed away in May of 2016. I miss him so much and not a day goes by that I not reminded of him in some way – his warm smile, his huge hugs, his great laugh, his love of sports, and so many more things. Running has helped connect me to him and remind me what an amazing runner and athlete he was, having completed numerous marathons himself back in the day. I know he would be so proud of what I have accomplished thus far and the new goals I have set for myself. I feel him there with me on every training run cheering me, saying just keep moving, one foot in front of the other.
Although my dad is my main motivation, I am doing this for more than just him. Since his passing, I have lost 2 of my fellow Los Angeles County District Attorney colleagues, as well as the brother of a colleague, to pancreatic cancer. And one of my dear friends from high school has also been affected, as her wonderful mother was also diagnosed and is fighting the fight. I am running this marathon for them and for their family members who have dealt with/are dealing with this horrible disease. Please help me show them the love!
Thank you SO MUCH for your help – every dollar makes a difference!