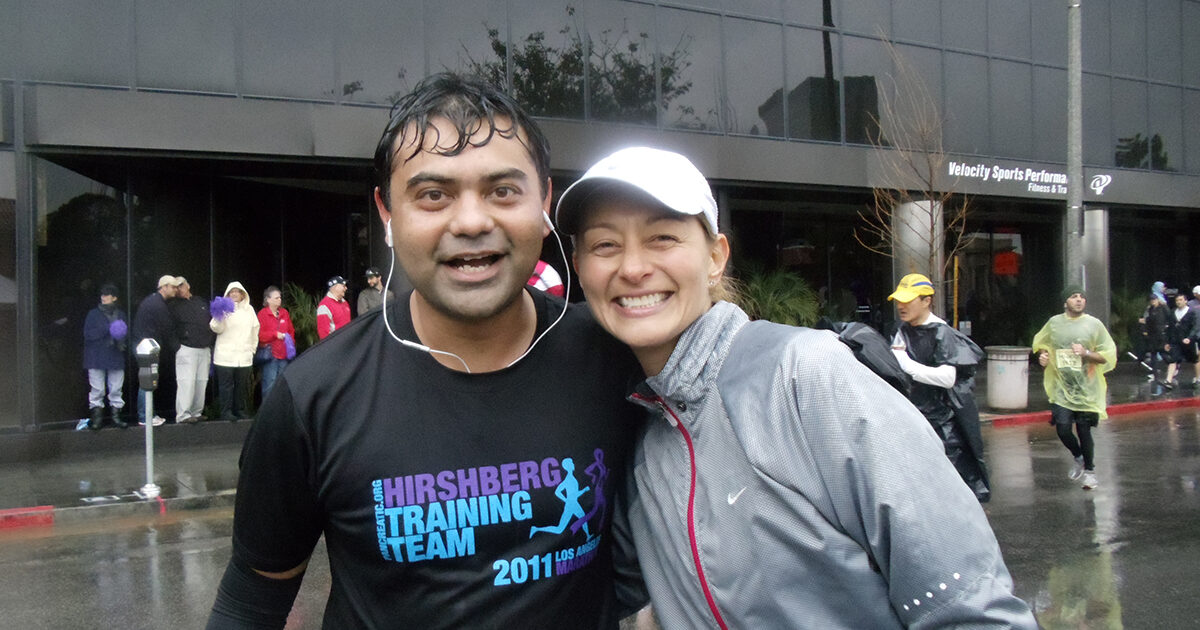 When wet weather is in the forecast, use this weather condition as an opportunity to properly prepare yourself for your race goal. We never know what the weather is going to be on race day, so the more familiar we are with running in the rain the less frantic we will be if it rains during our race. Our mantra is "We Love To Run In The Rain"!
Runner's World Expert Katie Neitz says, "Running in the rain is really no different than running in the sunshine — just run! One thing to take comfort in is that once you are wet, you are wet. It's really not going to get much more uncomfortable."
Here are some key tips to running in the rain:
Shoes: If you're wearing proper shoes for running, you're most likely wearing proper shoes for running in the rain. A good athletic running shoe will have the traction and treads that you need to keep you from slipping in wet conditions. Be careful! Avoid puddles when possible so that you can avoid getting your feet completely submerged and sloshy.
Clothing is all about the Layers: Dress in layers if it's cold. Your first layer, or the one closest to your skin, should be very light and made of a material that will draw moisture and sweat away from your skin. Make sure it's a technical fabric such as polypropylene or CoolMax. If you need another layer on top of the first, make sure it is something that is very lightweight and that can also breathe easily so that sweat isn't trapped. The outer layer should be something that will keep the wind and rain at bay, such as a windbreaker or a light vest. You can also wear a garbage bag with arm and neck holes or a poncho. You will not only keep dry from the protective plastic, but it's also extremely light. If it stops raining on your run, you can simply rip it off and throw it out.
Don't Overdress: Overdoing it with the layers will only make you become more water-logged. This can then leave you with heavier, wet clothing to carry around with you.
Be Visible: Select an outer layer that's light-colored or has reflective strips
Wear a Hat: Be sure to wear a hat when you go running in the rain, preferrably one that has a wide brim. The hat serves two purposes – it'll help keep your hair dry, (important for regulating your body temperature) and it will keep the water off of your face and out of your eyes while you're running.
Bring a change of clothes: The sooner you can get into dry clothes the warmer and more comfortable you will be. When you get home take a hot shower to get the chill out of your body.
Prevent Chafing: Your risk of chafing can increase when running in the rain — especially if you are going out for a long run. Be sure to cover the vulnerable areas with a protective petroleum such as Body Glide or Vaseline jelly before you head out for your run.
Slow down your pace: When running in the rain you don't feel as hot which might tempt you to run hard. Don't. Shorten your stride and stay relaxed.
Watch Traffic: Be extra careful around car traffic. Although the impulse is to rush the crosswalk, wait for the signal. Cars and drivers have a lot less control on wet roads.
Look Up: Don't run if there is thunder and/or lightning. Through the years we have not had to deal with this happening but we want to remember to error on the side of caution! Safety First!
Don't run fast against the wind: Be aware of how windy weather can affect your running. Slow down when running in a strong wind. You are spending six percent more oxygen than in ordinary conditions. Running slower while against the wind will give you the same benefits as when you run fast during normal conditions. When you begin your work out, try to run against the wind, so that during your return you have the wind to your back and are not fighting to run against it when you are more tired.
Protect Your Electronics: Store electronics, such as your cell phone, in a ziplock bag or a water-proof carrier.
Stay Hydrated: Despite the cold weather, you'll still heat up and lose fluids through sweat. Cold air also has a drying effect, which can increase the risk of dehydration. Make sure you drink water or a sports drink before, during, and after your run.
Give yourself a pat on the back for accomplishing this challenging run in the rain. You are toughening Up!